Contrepoint
A juggling adventure
In the middle of the eighties, a new mathematical juggling model appeared, based on the travelling time of objects in a pattern. This time is depicted by a number; therefore a pattern is depicted by a sequence of numbers, on which some calculations can be done to deduce new patterns. This mathematical model, called siteswap, became a practical and accessible notation, but also a powerful exploration tool.
The siteswap system opened to a whole range of new variations; we used a juggling simulation software either to create new patterns that we juggle on stage, or to create some videos projected on stage.
Contrepoint creates new ways for writing juggling, with massive use of notations and computers. The use of these tools allows to go beyond body and mind habits, and to give some room to innovation. With a hypnotic and minimalistic score, on a play between man and machine, the show captivates the spectator's eye with profusion of variations.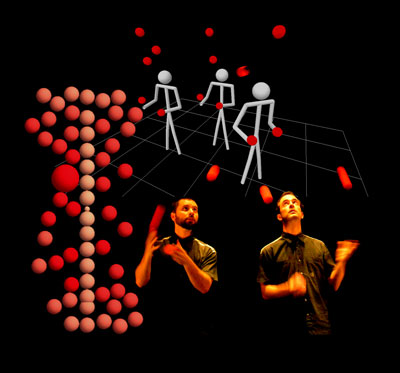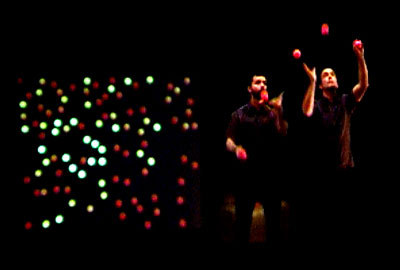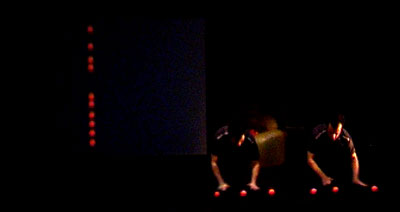 Cast
Juggling, videos and animations : Denis Paumier and Sylvain Garnavault
Music : Denis Paumier
Production
Les Objets Volants, Jonglissimo, avec le soutien du Centre Culturel Saint Exupéry (Reims), de l'Espace Périphérique (Paris), et du Centre des Arts du Cirque de Basse Normandie (Cherbourg).
Technical requirements
6m wide, 5m deep, 3,5m high scenic space
Complete darkness is necessary.
Duration: 30 minutes
possible combination with other short shows from the company
This project is dedicated to Vincent Bruel, who was part of the first version of this show, a trio created and performed in 2004.