Espresso
Espresso is a french-finnish performance that freely mixes genres and approaches of circus expression. Traditional circus, cabaret and contemporary circus confront and overlap.
Espresso is a high speed journey in the labyrinth of circus history, a journey from which the eye can only catch images, lights, movements. Impressions. A rabbit.
Four artists come and go. They juggle and dance while time goes by, while costumes and music change, while the art is altering. Each one on stage, lives this strange experience to be his own ancestor and his own future, for a short moment each time. And every period of time adds to the others to concentrate their art even more.
Bien serré, l'espresso.

The four artists play to introduce flaws in the chronology, and suspicion in what is to be seen ; they play to exaggerate, between tribute and parody. "You do what you need to do", but you do not think less.
Bienvenue, l'expression.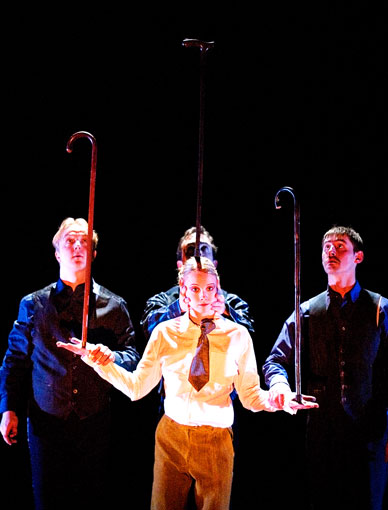 The première happened in february 2006 in Espoo (Finland), and the last performance happened in the same place in february 2012, after more than 120 performances in Finland, France, Switzerland, United States, Mexico and Syria.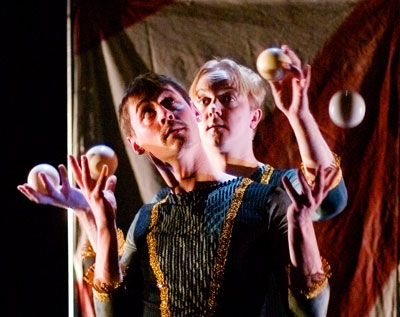 Cast
Artistic direction and stage direction: Maksim Komaro
Scenography et artistic consultant: Jani Nuutinen
Interpretation: Sanna Silvennoinen (or Ilona Jantti), Antoni Klemm, Maksim Komaro, Denis Paumier
Costume desgn: Kaisa Kemikoski
Light design & light technician: Juho Rahijärvi (or Stephane Bordonaro)
Sound design : Tuomas Norvio
Still and animated images: Kalle Hakkarainen
Original idea of culbutos: Thierry Dussout
Stage technician: Nicolas Oudin
Production
Les Objets Volants, Circo Aereo, Espace Simone Signoret (Vitry-le-François), Centre des Arts du Cirque de Basse Normandie (Cherbourg), with support of Théâtre Municipal d'Espoo (Finlande), Ministère de la Culture - DMDTS, Région Champagne Ardenne, Espace Périphérique (Paris)
Technical requirements
Fully equipped venue with sound and light
Stage: width 10m, depth 10m, height 7m
Duration: 1h15