Pouf
Where can you find pillow trees? In a child bedroom, or in a garden, or somewhere between. And between, there is an imaginary yard where balls and bolsters fly for the best or the worse. "Pouf!" makes the ball when it crashes in the juggler's hand or... on the floor. Unless it's the big bolster hit that you are taking... or giving?
Between softness and violence, between «pillow-fight» et «mellow passing», Pouf explores the contradictions in juggling and balance with soft props.
Pouf was perform more than 50 times between september 2009 and september 2011.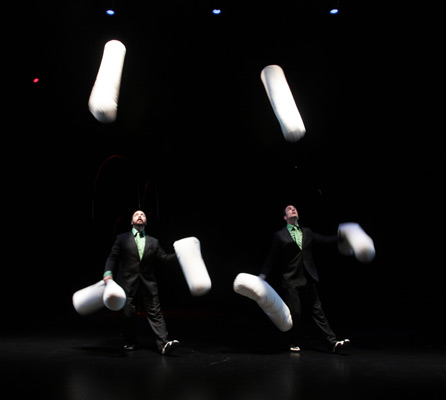 Cast
Juggling, manipulation: Denis Paumier, Sylvain Garnavault and Fanny Jeannin
Artistic consultant, stage direction: Christian Lucas
Scenography, costume design: Gingolph Gateau
Light design: Hervé Lonchamp and Solenn Aubert
Sound design: Denis Paumier and lowZ
Production manager: Fanny Griffon
Graphics: Hélène Paris and Emmanuel Perez
Construction of the pillow-tree: William Noblet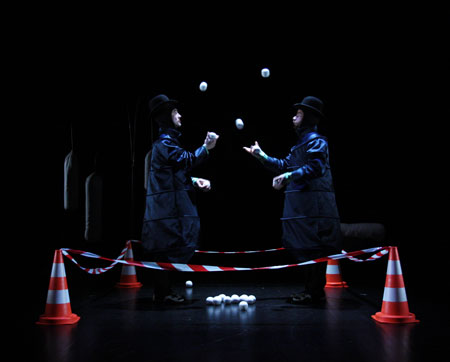 Production
Les Objets Volants, La Brèche (Cherbourg), La Batoude (Beauvais)
With support of Région Champagne Ardenne, DRAC Champagne-Ardenne, Département de la Marne, Centre Culturel Léo Lagrange (Amiens), La Forgerie (Wassy), Ville de Reims, Commune de Gueux, TRAC/Jonglissimo
Technical requirements
Performance venue with sound and light systems, curtains legs and tier.
Stage dimensions :
width 8m + wings, depth 8m, height 5m
Lights : 60 spotlights

Duration : 65min.