Transparences et Tournemains
Transparences is a laboratory on stage, where the juggler-manipulator can be observed animating the objects. Adhesion, inertia, gravity and bounce become the basics of a new visual language.
"Tournemain" is the name given to an object invented by Denis Paumier. Its shape allows unexpected manipulations; like a question mark, this unknown sign recalls many well-known other objects without being really similar.
Each piece of the show explores the properties of the objects, their mutual relation, according to their similarity or unsimilarity, and the relation with the manipulator.
Cast
Juggling, manipulation, music, light design : Denis Paumier
Costume design: Gingolph Gateau
This project was supported by Ministère de la Culture - DMDTS (Jeunes Talents Cirque), City of Nangis and Ludoval (Reims).
Technical requirements
6m wide, 5m deep, 4m high scenic space
Duration: 30 minutes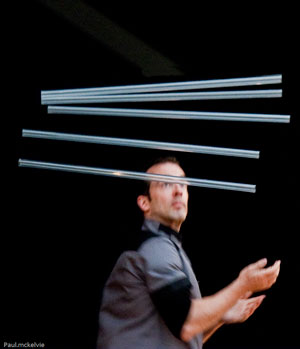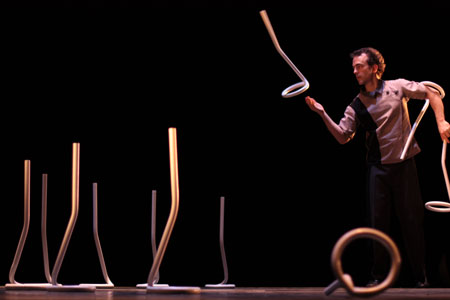 Photos on this page from Paul McKelvie